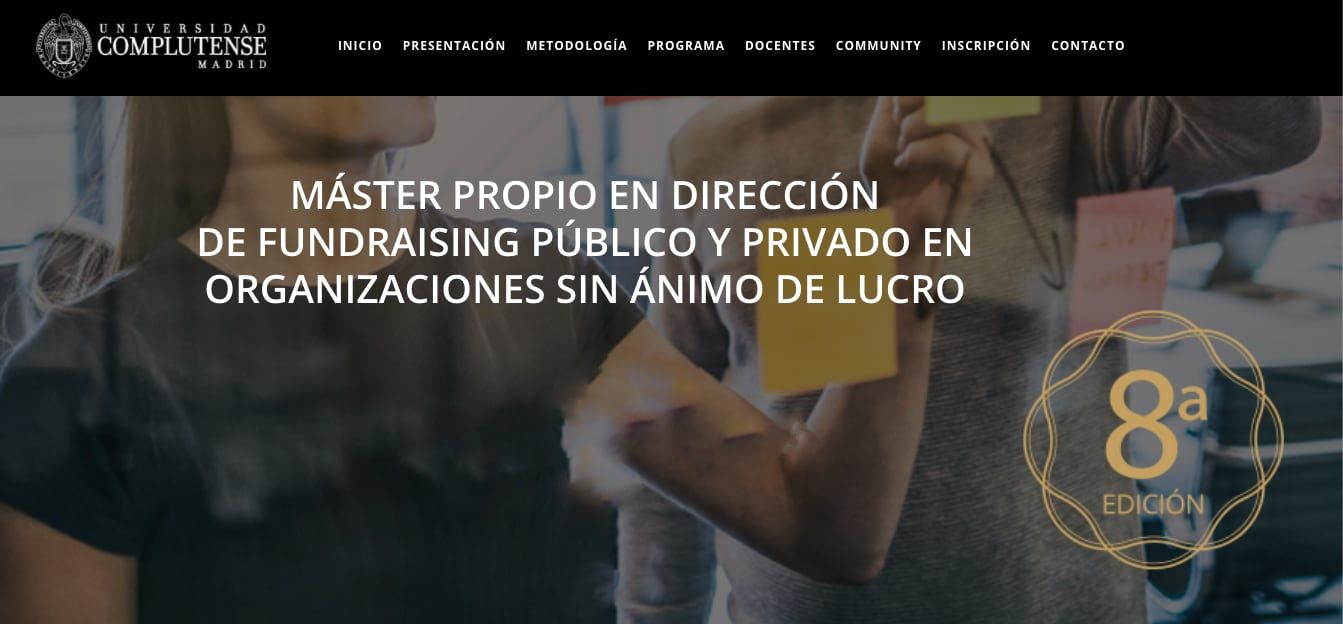 If you want more information about the Master's, contact me.
MASTER'S PROGRAMME
Module 1.
SOCIOCULTURAL CONTEXT OF FUNDRAISING
1.1. The third sector and its context.
1.2. The market and fundraising.
1.3. The legal, cultural and ethical dimensions of fundraising.
Module 2.
THE MANAGEMENT OF FUNDRAISING
2.1. Institutional Direction and Management for Fundraising
2.2. Organisation and implementation of fundraising.
2.3. Financial management.
Module 3.
STRATEGIES IN FUNDRAISING
3.1. How to make a strategic fundraising plan.
3.2. Managing relations with donors.
3.3. Analysis techniques (SWOT, STEF, competition).
3.4. Design thinking.
Module 4.
METHODS OF FUNDRAISING
4.1. Online and offline fundraising channels (telephone fundraising, merchandising, inheritance and legacies, F2F, TV, youtubers, networks, Crowdfunding)
4.2. Tools for Fundraising (BBDD, CRM, analysis techniques, pattern generation, data profitability).
4.3. Communication: "From general strategy to tactics".
Module 5.
FORMS OF FUNDRAISING AND LOYALTY
5.1. Donations from individuals.
5.2. Fundraising in companies.
5.3. Large donors.
5.4. Financing of philanthropic foundations.
5.5. Funding from the Public Administration.
5.6. Loyalty of members and donors.
Module 6.
LEGAL IMPLICATIONS OF FUNDRAISING
6.1. Data protection.
6.2. RGPD.