If you're looking for a speech that will impact the audience, that will get them talking after the event, that will show another way of thinking and doing things, bringing about change. You've come to the right place.
If you want me to give a lecture contact me.
2023
How to identify the best strategies for social networks (Global Marketing Trends Congress - PBS Guatemala)
The future of exporting: how technology is transforming the international landscape
How to make the most of the power of LinkedIn in your export strategy and social selling.
2022
The new Digital Hybrid Export Manager
Web 3.0 and NFTs, the global digital r-evolution
Tesla's Disruptive Organizational Model & Extreme Innovation
Digital Leadership and Hybrid Leadership
The 12 technologies that will change the business world
The 12 key disruptive technologies you need to know about and implement
How to use LinkedIn to promote your personal brand
New hybrid competencies and skills for export teams post COVID
2021
FOW The Future of Work, how to position ourselves in a digital world
Internationalization 4.0
Leadership and Management 3.0
Get the perfect job with LinkedIn
Use of social networks for blue economy companies
The revolution of organizations and their digital transformation
Rural Youth Entrepreneurship
Generating business with digital hybrid sales
Job orientation generating talent
How to boost your company in 90 days through digital marketing?
Competitive Intelligence Congress
How to generate leads with Sales Navigator and LinkedIn
Recruitment 4.0 Attracting Talent in the Digital Era
Interantionalization 4.0 The Disruption of sales
Disruptive Selling. Post-covid sales models
How to make my company live a true digital transformation.
2020
Internationalization 4.0
The disruption of sales
The Future of Tele-Visiting
Social Selling for Rural Tourism
Digital Fundraising
Social Selling - The Challenges of the Financial Sector facing the Economic Reactivation
LinkedIn for Companies and Executives
The Future of Internationalization 4.0
The Future of Medical Tele-visiting
Learn to be Productive in Agile Teams in Virtual Environments
The Future of Marketing
Selling on Social Networks and Social Selling
The Future of Telework - Work Tools for the Home Office Executive
FOW Future of Work
COVID-19 + FOW = Welcome to 2030
The new market after COVID-19
Social Selling for Automotive
The New Normal
The Future of Telework - Work Tools for the Home Office Executive
CX Customer Experience Social Selling
LinkedIn to increase Sales
Remote Work Virtual Summit - Telework Europe
Omnichannel B2B CX on LinkedIn
Social Selling and Professional Branding
My areas of expertise
I give conferences at congresses, company events, universities, and business schools, in Spain and Latin America, including seminars on specific sectors (pharmaceuticals, banking, insurance, internationalization, logistics, retail, technology, etc.)
Cultural of Change, Change Management, Digital Culture
Innovation and Productivity Extreme
Business Models, CX3 Customer Experiential Processes and Communities with NFTs, Blockchain, Metaverse, and Digital Assets
Digital Strategy, Digital Marketing, Online Advertising
Entrepreneurship, Intrapreneurship, and Startups
Social Selling, LinkedIn, Digital Selling
Fundraising for NGOs
Internationalization 4.0 (Export)
FOW Future of Work, Job Search
Digital Leadership, Hybrid Leadership
Digital Workplace, HomeWork
Recruitment 4.0, Talent Attraction and Retention
I recommend that you check out my LinkedIn profile and see what my clients think of me www.linkedin.com/in/davidmcalduch
Some of my lectures that you can see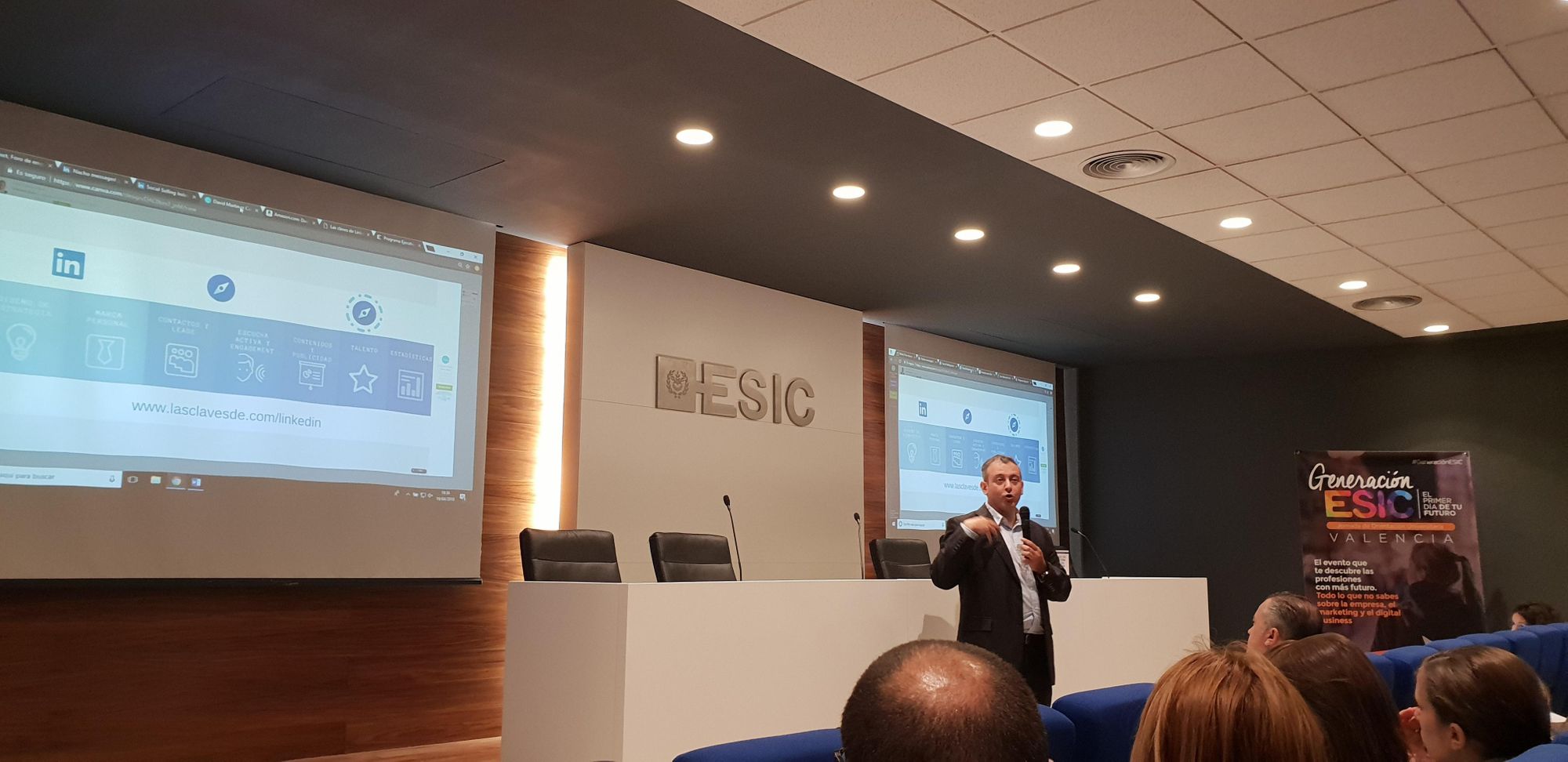 Some of the lectures I give
If you want a particular subject, contact me to indicate if I can teach it. Here are some of the lectures I am giving.
Sales
The Future of Medical Tele-visiting
Export
Foundations and NGOs
Talent
Get the perfect job with LinkedIn
Social Selling and LinkedIn to position yourself professionally
Recruitment 4.0 Talent Attraction in the Digital Age
Career guidance generating talent (for recruiters)
The Future of Telework - Work Tools for the Home Office Executive
Digital Company Culture
Entrepreneurship & Marketing